Sen. Ron Wyden Introduces Hemp Bill S. 3501 in the Senate
Please Call Your Senators Today!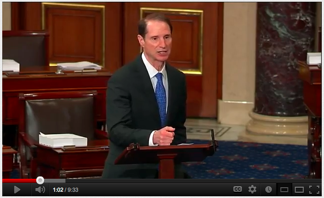 Dear Reader,
Earlier this month Senators Ron Wyden (D-OR), Rand Paul (R-KY), Jeff Merkley (D-OR), and Bernie Sanders (I-VT) introduced S. 3501, the Senate companion bill to H.R. 1831, the Industrial Hemp Farming Act of 2011. If passed, the bill would remove federal restrictions on the cultivation of industrial hemp, the non-drug oilseed and fiber varieties of
Cannabis
. The language of the bill mirrors that of H.R. 1831, which was introduced in the House this session. The full text of the bill, its status and a list of cosponsors can be found at:
votehemp.com/legislation
.
As HIA members you are in a unique position and know more about the subject than than most. Your opinion counts even more because you are in business. We need you to
call your U.S. Senators right away
and ask them to become a cosponsor of S. 3501, Senator Wyden's companion bill to H.R. 1831, the Industrial Hemp Farming Act of 2011. If they are are already cosponsors you should call and thank them and ask for them to work for a committee hearing for the bill. Even if you have already called and emailed about the hemp farming amendment to the Farm Bill in June, please pick up the phone and call again today.
We have an easy to use call script and it will take very little of your time. When you make the call please ask for the agriculture staffer and feel free to share your experiences in the hemp industry with them, too. We have been working for the introduction of this bill for over a year and a half and there is no time like now to act. Staffers are available to answer Senate phone lines Monday through Friday, 9:00am to 5:00pm Eastern time.
In June our supporters have sent over 17,500 emails to their Senators and made over 1,000 phone calls in support of Senator Ron Wyden's hemp farming amendment! This support was crucial to the introduction of S. 3501 because it helped to get needed original cosponsors for the bill. So, you are making a difference. Even if you have already written an email, please follow up with a phone call. It's that important. Keep up the great work!
To learn more about S. 3501, the Senate hemp farming bill, please see our
Legislation
page. You can also
write a letter to the editor
, like
Hemp farming approval is coming
, which was written by Gerry Shapiro, president of Merry Hempsters. If you are looking to take your lobbing to the next level please read and use
The Vote Hemp Guide to Hemp Activism
This twelve page guide will give you the information and tools that you need to confidently and effectively ask your elected representatives to support legislation which will lift the current ban on hemp farming in the U.S. Also, please be sure to watch the
video of Senator Ron Wyden
on the floor of the Senate introducing his hemp farming amendment in June.