Sen. Ron Wyden Introduces Hemp Amendment to Farm Bill
Please Call Your Senators Today!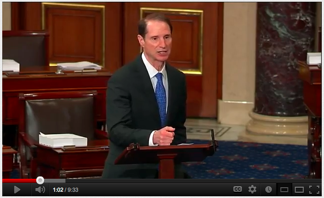 Dear Reader,

Senator Ron Wyden of Oregon has introduced an industrial hemp farming amendment to the Farm Bill that would allow U.S. farmers to once again grow industrial hemp. We now have a historic opportunity to advocate for long overdue reform! If passed, the Wyden amendment would finally bring hemp farming back for American farmers. Last week Senator Paul of Kentucky signed on as our first Republican cosponsor and Senator Merkley signed on as the first Democratic cosponsor. Support is growing but we really need your help.
As HIA members you are in a unique position and know more about the subject than than most. Your opinion counts even more because you are in business. We need you to
call your U.S. Senators right away
and tell them to support the Wyden hemp amendment to the Farm Bill and support a sustainable future for U.S. farmers. Even if you have already emailed, please pick up the phone and call today.
We have an easy to use call script and it will take very little of your time. When you make the call please ask for the agriculture staffer and feel free to share your experiences in the hemp industry with them. This is the chance we have been waiting for and there is a very limited time to act. Staffers are available to answer Senate phone lines Monday through Friday, 9:00am to 5:00pm Eastern time.
The Senate continues to work on a larger agreement for amendments to the Farm bill. So far our supporters have sent over 15,000 emails to their Senators and made over 1,000 phone calls in support of Senator Ron Wyden's hemp farming amendment! We now have word that at least one more Senator is going to sign on as a cosponsor. So, you are making a difference. Even if you have already written an email, please follow up with a phone call. It's that important. Keep up the great work!